By following this guide, you will learn how to run a speed test on your Firestick. The methods shown in this guide also work on Fire TV Cube and other Fire TV devices. Additionally, these methods work on both Wi-Fi and wired internet connections.
The Amazon Firestick is certainly the most popular streaming device on the market right now. This is largely due to its low price and ability to jailbreak it with just a few simple tweaks. It's a perfect streaming device for beginners as well as advanced users who wish to cut the cord.
However, just like any other streaming device, you must properly maintain your Firestick to avoid running into issues. Making sure that you have a decent internet speed will play a vital role in your streaming experience. Watch the video for full details or follow the written step-by-step guide below instead.  
Knowing your internet speed on your Firestick can be a good indicator of your streaming capabilities. if you're experiencing buffering for example, your internet speed is one of the first things to check.
It's a common misconception that you need the fastest speeds possible for streaming. In fact, you don't even need a 100Mbps connection for smooth streaming.
Generally speaking, you need consistent speeds of around 10Mbps to stream in full HD and around 25Mbps to stream in 4K.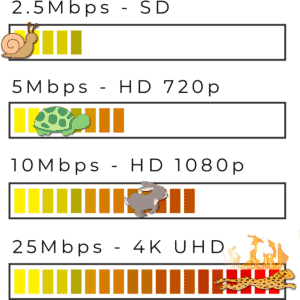 There are a number of ways to run a speed test on your Firestick. A speed test should generally be run three times to get an average speed. Your speeds need to remain consistent for decent streaming in order to avoid issues like buffering.
In this guide we will take a look at three ways. You can then decide which is easier for you and choose your preferred method.
Take a look at the video guide or the step-by-step written guide instead.
1. Install a Speed Test App
The quickest method of testing your internet speed is to install a speed test app. Once you have the app installed, your internet speed is tested in just one click.
2. Test Speed in a Web Browser
If you'd prefer not to install an app you can visit a speed test website with a web browser. You can get a web browser for your Firestick from the Amazon app store. Either the Amazon Silk web browser or the Downloader app which has a built-in web browser. In this example I have used the Amazon Silk web browser.
3.Firestick Network Status Check
If you'd prefer not to install an app or use a web browser, you can test your internet speed via your Firestick Network settings.
As you can see, there are a number of ways you can test your Firestick internet speed. Don't forget to test your internet speed more than once to get an average. Your speeds need to remain consistent in order to streaming without any issues. However, if you need further help, select from of the options below.