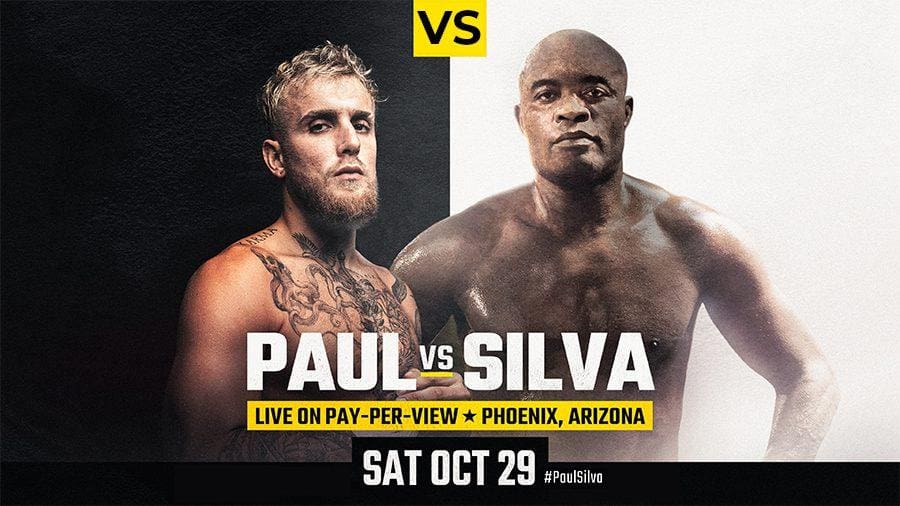 Looking for more information on how to stream all of the action from Jake Paul vs. Anderson Silva? Read more details about this epic fight, when it will take place and where to watch.
Make a note in your calendar as Jake Paul returns to in-ring action to face former UFC middleweight champion Anderson "The Spider" Silva. Their battle will be the main event of a Showtime pay-per-view at The Desert Diamond River Arena in Glendale, Arizona, airing live on Saturday, October 29.
Jake Paul (5-0, 4 KOs), 25, of Cleveland, made his professional boxing debut in January 2020 with a first-round TKO victory over fellow YouTuber Ali Eson Gib. His second fight was a second-round one-punch KO of former NBA star Nate Robinson. Next, he defeated former Bellator and One Championship champion, Ben Askren with a first-round TKO in April 2021 before taking on former UFC welterweight champion Tyron Woodley twice.
Paul said he's been in training camp almost the whole year preparing for fights that didn't happen, so he's ready for Silva's "unique" style.
Anderson Silva (3-1, 2 KOs), 47, of Brazil, scored a split-decision victory over Julio Cesar Chavez in June 2021 and a KO over former UFC light heavyweight champ Tito Ortiz a year ago. He is considered one of the best UFC fighters in the promotion's history.
Jake Paul vs. Anderson Silva: Kick-Off Press Conference - 12 Sept 2022
Where Can I Watch the Jake Paul vs. Anderson Silva Fight Card on Saturday, Oct. 29?
The entire fight card of Jake Paul vs. Anderson Silva can be streamed live in the U.S. on Showtime pay-per-view via showtime.com or the Showtime app and on all major cable and satellite providers. You can also stream the full fight card on FITE via fite.tv or the FITE app. However, there are also many other ways to stream the full fight card, and you can find them below. The epic battle starts at 9 pm Eastern Time.
Official Sources - Jake Paul vs. Anderson Silva
Showtime Sports delivers exclusive access and innovative coverage of premium sports programming, including award-winning documentary films. A monthly membership costs $10.99. However, PPV events are charged extra, depending on the event's popularity, and are usually around $79.99. 
The digital video streaming service FITE is dedicated to combat sports related programming. As well as free-to-air content, FITE hosts over 1000 live events during the year. Prices range from $34.99 to $4.99 for example, depending on the event. Fite is available as an app on all major streaming devices as well as all major app stores. You can also watch online on any web browser.
Unofficial Sources - Jake Paul vs. Anderson Silva
Unofficial IPTV services that offer thousands of live TV channels as well as every PPV event from around the globe from as little as $10 per month all-inclusive are almost certainly unlikely to carry the correct licencing to broadcast. However, with the cost of PPV events being so expensive, many users turn to this cheaper alternative. There are hundreds of IPTV services available so I've picked out a few to review that come highly recommended. IPTV services can in general be installed on most streaming devices as well as Firesticks & Android boxes.

Free streaming apps can offer a significantly large number of live TV channels and PPV events from around the globe. However, their reliability can be questionable in regards to quality of the live stream & blackouts. Due to their nature, free apps that broadcast sporting events can disappear at any moment. With this in mind, this makes it difficult to make recommendations. Despite this, there are many sports apps that you can download and try out for yourself and these can be found on my Downloads page. In order to view sports apps, just filter the category to SPORTS to see a full list.
Many sports streaming websites also provide good quality sports streams for free. However, these types of websites can generally be difficult to use due to a plethora of adverts and pop-ups. Hence it is advised to use these sites with caution.
Many Kodi addons provide good quality sports streams for free and can be more reliable compared to free streaming apps. Despite popular belief, Kodi can easily be installed on a Firestick together with just a few addons and won't take up much space.