By following this guide, you will learn how to fix screen orientation issues on your Firestick.
The Amazon Firestick is a popular streaming device that offers excellent value for money and can be jailbroken with minimal effort. It is a perfect choice for anyone looking to cut the cord, regardless of their experience with streaming devices.
What are Screen Orienation Issues?
Have you ever before installed an app onto your Firestick that has made your screen appear stretched or squashed? This is because of an orientation issue and can be quite annoying. An issue such as this may even put you off using an application. However, there is a solution.
Why do Screen Orientation Issues Occur?
This usually happens because the application was designed for a touch screen device. Or in addition, the application was designed to be used in portrait orientation. With a Firestick you obviously don't have that option to turn your TV around to make it fit.
Can Screen Orientation Issues be Fixed?

Screen orientation issues can presently be fixed by using an application called Set Orientation. This can be used in order to force your device to any orientation you prefer.
How to Install Set Orientation
The Set Orientation app is not available to download from your usual app stores. However, you may be able to sideload it. In order to do so, your device must be capable of installing apps from unknown sources. Once your device is enabled for sideloading, you can then install the Set Orientation app from my Downloads page. Follow along with my video tutorial or by using the written instructions below instead.
Important Information
When opening the Set orientation app, you may see the message, "This app was built for an older version of Android and may not work properly. Try checking for updates, or contact the developer." This is not an error. Click OK, and the app will open and function as expected.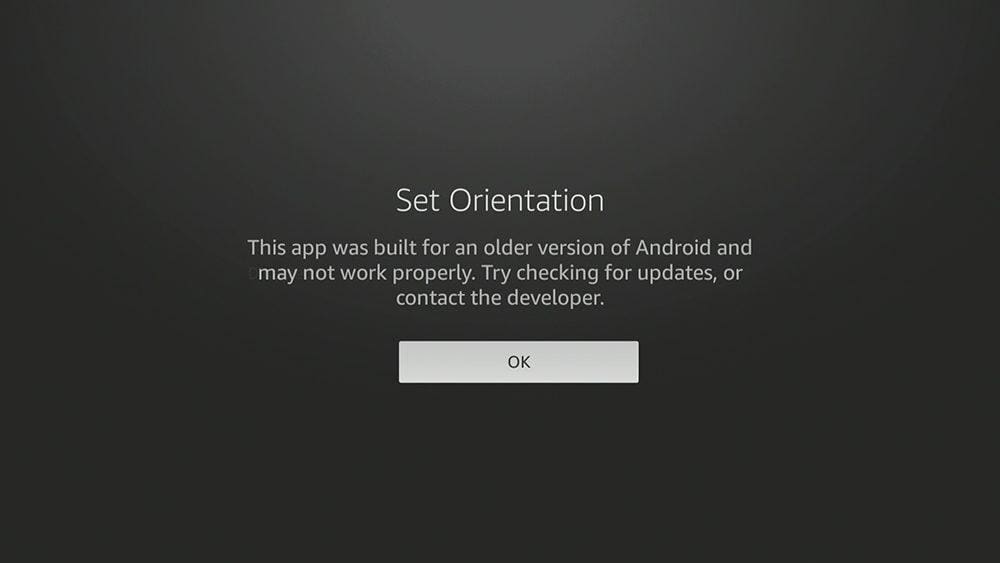 How to use Set Orientation to Fix Screen Orientation
If you'd like to see this in action, check out the video above or follow the written instructions below instead.
With Set Orientation open, as can be seen, there are no frills with this app! It's certainly plain and simple to use. However, it does exactly what you need it to do. As a default, the single drop-down box it is set to Disabled, but there are other screen orientations to choose from.
I generally find that selecting Automatic from the drop-down list fixes most orientation issues. Select automatic, or whichever orientation you want to force an app into from the list then select OK. This will close Set Orientation and also leave it running in the background. Orientation issues with any apps you open will then automatically adjust to fit properly on your screen.
However, if you find that selecting Automatic orientation does not fix your screen issues, you can go back into the Set Orientation app and try switching to other orientations to find which works best for you. This will work for most apps for most people, but of course, any workaround like this is not guaranteed to fix every application.